Ideal for high volume applications that require precision machining, broaching is an efficient metalworking technique for shaping metal parts.
What is Broaching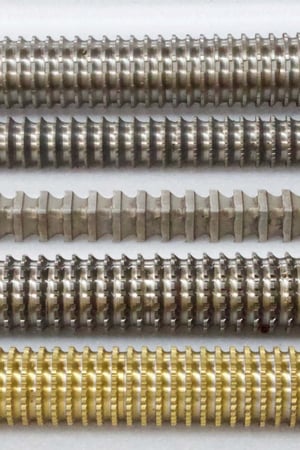 A broach is a toothed tool used to remove material. Broaching uses a machine to manipulate the broach, performing a single pass to remove material. Originally developed to machine internal keyways, broaching is now also used to machine a variety of surfaces and shapes.
Broaching is used to precision machine shapes into metal and is especially good for precision machining odd shapes like non-circular holes, splines, and keyways. Because broaching performs the cut in a single pass, it is extremely efficient and is ideal for high volume applications.
Advantages of Broaching
As we mentioned above, broaching is an extremely efficient metalworking technique which makes it ideal for high volume applications. However, because most pieces are designed around standard broach geometry, broaching is also an economical solution even for a single piece. A broaching shop like ours, for instance, can easily accommodate anywhere from one to 1000 units.
Not all pieces need to be designed to work with standard broach geometry though. Another advantage of broaching is that a broach can be custom designed to accommodate nearly any geometry. Shops like ours are able to create non-standard design broaches to accommodate unique shapes.
Broaching Services
In addition to creating custom broaches, we also offer a wide variety of broaching services.
For operations that perform broaching in-house, we offer broach grinding. Our experienced staff has the skills and grinders needed to sharpen your broaches.
If you don't perform broaching in-house, our broaching production shop offers broaching capabilities for steel, stainless steel, aluminum, brass, and copper. We are able to broach splines, hex, d bore, double d bore, square, and octagonal shapes but we also offer design assistance for creating custom broaches.
Learn More
Contact us to learn more or to request a broaching quote.