Multi groove pulleys are a benefit to many applications because they allow for smaller diameters than traditional V belts. Multi groove pulleys also typically allow for large speed ratios and higher power transmission capabilities.

The Importance of Design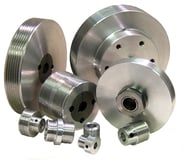 When designing a multi groove belt and pulley drive system, it is vital that all design variables are taken into consideration. Having all of the necessary specifications up front will ensure that your design will effectively transmit power. Many belt manufacturers offer design specifications for choosing the correct belt and number of grooves, etc.
Multi Groove Pulley Buying Guide
When you're ready to buy the pulleys to match your multi groove belt, use our handy checklist. You will find the list of requirements for ordering or requesting a quote on multi groove pulleys.
Get your free Multi Groove Pulley Buying Checklist here or by clicking the image below!