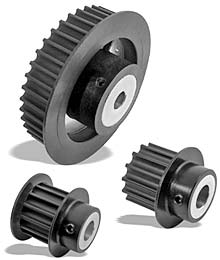 Often the best way to find out if a component works most efficiently for your application is to test it.
We recognize the requirement for sample Timing Pulleys for prototype testing as well as verification of quality and fit within your product.
Our focus is helping design engineers solve power transmission problems using our range of technical expertise, engineering know how, and manufacturing capabilities to make sure the customer has the right component to meet their design criteria.
Sometimes it makes economic sense to design a custom Timing Pulley rather than compromise a design to accommodate a standard pulley. We pride ourselves on our ability to economically design and produce custom pulleys, even for small batches.
Our Standard Pulley lines available for samples:
Timing Pulley: XL, L, 3mm HTD, 5mm HTD, 8mm HTD pitch
Variable Speed Pulley
V-Belt / Round Belt Pulley
Please call us at 440-352-8995 to discuss your application and obtaining samples.
-or-
Complete the sample request form on this page and we will quickly respond to your request.
Please note, as an OEM supplier and lean manufacturer we do not always maintain inventory on all pulley options, a sample request may require three weeks for delivery.