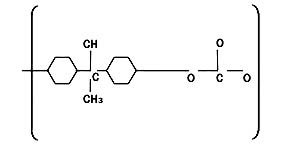 Although some structural variations are possible, the above formula represents the most common system and is formed by reaction of bisphenol A and phosgene. Its applications are almost always those which take advantage of its uniquely high impact strength and clarity. Recently, however, additional interest has resulted because of its low flammability. Some studies are currently underway to further improve this characteristic. Polycarbonate is a versatile blending material for polyester and acrylenitrile-butadiene-styrene.
Advantages
High impact strength
Clarity
Low flammability
Dimensional stability
Disadvantages and Limitations
Subject to stress cracking
Fairly high processing temperatures required (550° F)
Degrade upon extended residence time in processing equipment
Solvent resistance is only fair
Yellowing after long-term exposure to UV light
Typical Applications: Headlights, microwave cookware, ophthalmic lenses, helmets, instrument cases and mechanical goods.