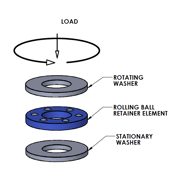 With Thrust Bearings or Axial Bearings, the force is parallel to the axis, which pushes against the bearing. The primary application is to separate a rotating surface from a non-rotating surface. Other examples would be supporting a rotary table or absorbing the thrust of a propeller.
How to Choose the Correct Thrust Bearings
Define the application: what is the design intended to do? Also include shaft dimensions or space dimensions for the thrust bearings.

Force or load against the bearing: What pressure or load is pressing on the thrust bearings?

Preload: Bearing preload is a predetermined load applied to a bearing and is separate from application loads. Preload is a design consideration to increase rigidity and decrease vibration and sliding friction. Preload must be considered and added to the application load when evaluating the total load.

RPM of the application?

Hours of operation or cycle time?

Operating environment, does the operating environment require special consideration?




A Torque Transmission Thrust Bearing
A three-piece set, a Molded Ball Retainer, and two Thrust Washers.
The Nylon Ball Retainer is Injected molded using heat-stabilized nylon 6/6

The balls are carbon or stainless steel, hardened to Rc 60 and finished to Grade 100, 0.0001-inch tolerance.

The thrust washers are stamped to a tight ID and OD tolerance, heat treated, and finished to a 10-micro-inch finish.

The Carbon Steel Washer is CR 1075 hardened to Rc 59-61

The Stainless Steel Thrust Washer is CR 410 Stainless hardened to Rc 38-42

Torque Transmission's Advantages
Lightweight nylon retainer
Natural lubricity
Corrosion-resistant
Extremely quiet operation.
Economical, longest-lasting
We manufacture high-quality thrust bearings in a wide range of sizes and materials – inch or metric, carbon or stainless steel.
If your bearing requirements do not meet our standard sizes – call us at 440-352-8995.
Ask, We Are Here to Help
Our design team can help you find the thrust bearing that fits your requirements. Please contact us with your questions and specifications.