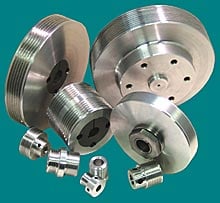 Manufacturers are looking for ways to decrease vibration and inertia as machine speeds increase and indexing requirements become much more precise. Additionally, component alignment and run out are much more critical at higher speeds. The newer generation of synchronous timing belts is capable of producing higher torques and therefore, requires stronger shaft connections.
Torque Transmission offers several shaft-locking options for its line of Timing, Variable Speed, V-Ribbed and Companion Pulleys and Roller Chain Sprockets including:
Keyways

Set Screws

D-Bores

Proprietary Shaft Locking Mechanisms

Collars
"We want our customers to be aware of all of the different ways in which Torque Transmission is able to improve pulley-to-shaft locking," commented John Rampe, President of Torque Transmission. "Our engineering department works closely with customers to help them determine the most appropriate locking technique for their application. The right locking mechanism can help reduce product costs through decreased downtime, equipment repairs and product loss," he concluded.
For more information contact Torque Transmission.