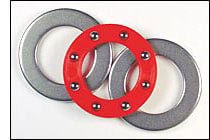 Kloehn LTD, a manufacturer of quality analytical, clinical and industrial diagnostic instrumentation, sought a supplier for small. Metric dimension stainless steel thrust bearing to fit a valve pump sub-assembly.
An offshore supplier was providing a bearing that was dimensionally correct but made with a corrosive material that failed in the field. Kloehn looked to Torque Transmission for a solution. Torque Transmission provided its non-standard OD/ID stainless steel metric ball thrust bearing for Kloehn's valve pump assembly.
Made from high-quality 410 stainless steel balls and 440 stainless steel washers with a self-lubricating nylon ball retainer, the new ball thrust bearing was specifically designed to resist many corrosive chemicals and solvents. The ball thrust bearings met customer requirements while saving Kloehn nearly 75 percent and the company quickly made Torque Transmission the exclusive supplier of thrust bearings for its valve pump assemblies.
"The attractive prices of offshore parts can often create a false sense of economy," explained John Rampe, president of Torque Transmission, "While the components may be dimensionally correct, the quality of the raw materials and the precision of the finished part may not meet the customers specifications. The cost of failures in the field coupled with ordering, inventory, delivery and communication issues often outweigh any perceived cost savings in dealing with a non-domestic supplier. The high degree of expertise possessed by our engineers helps customers reduce costs by improving performance through innovative design, selection of the right materials and precision manufacturing," he concluded.
Torque Transmission ball thrust bearings utilize the optimum combination of molded nylon retainer with gardened grade steel balls and washers. The self-lubricating property of nylon with the hardened steel, high-grade balls minimizes friction while the micro finish thrust washers reduce noise and increase durability. Torque Transmission thrust bearings are available in carbon and stainless steel in Metric and English dimensions.
For more information, contact Torque Transmission.
You may be interested in these other posts: