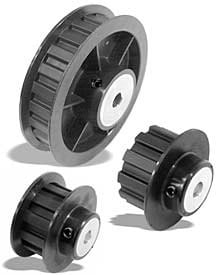 From wheel chairs to garage doors, belts and pulleys can be found in a huge range of applications. While some pulleys need to fulfill very specific requirements, like CNC applications where low inertia is critical, all pulleys are ideally manufactured for a long, reliable operation life.
Nylon offers many advantages over all metal designs. First, nylon is a fraction of the weight of other materials like aluminum or steel. Heavier materials greatly increase the inertia of the components, making a light weight solution preferable. Corrosion resistance and durability also make nylon an ideal manufacturing material for belts and pulleys.
We offer a range of pulley styles to best meet our customers' needs. Our standard pulleys include:
Contact us for pulley specifications or to learn more about our non-standard and custom designs.