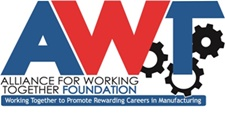 Manufacturing is the cornerstone of our nation's economic growth for the past 200 years and we are facing a major obstacle that is new and unique to our times. We are looking at a skilled but aging work force and as this old guard retires who do we have in line to take their place? There aren't enough people at present who have an interest and the right skill sets or required training to fill this gap.
The hard numbers:
Over the next decade nearly 3 ½ million manufacturing jobs will need to be filled. Seven hundred thousand of those jobs have not yet been invented but will be.
The skills gap is expected to result in 2 million of those jobs going unfilled.
What are the contributing factors to the skills gap besides retirement and expansion?
Loss of embedded knowledge that is only acquired through experience
A negative image of manufacturing among younger generations
Lack of STEM (science, technology, engineering, and mathematics) skills among workers
A gradual decline of technical education programs in public high schools
Manufacturing is important. Can you find anything in your life that is not manufactured, if you can it is a very short list. Manufacturing careers are the backbone of the middle class and without those jobs our quality of life will be in decline. Manufacturing today is not our father or grandfather's jobs. The factories are clean and safe. The biggest change is the skill level. For our grandfathers all that was required was a strong work ethic and desire to learn. Today, a strong work ethic is just as necessary but you must also have the basic entry level skills required for any specific industry. We all do not need to go to college but everyone today needs to be educated. Without marketable skills entry to solid paying jobs is almost certainly blocked. Where do we get the needed skills?
To begin, the biggest obstacle is awareness of the opportunities that manufacturing offers. The new role of manufacturing alliances is to help young people understand and appreciate the value of a manufacturing career.
Torque Transmission is a proud member of Alliance Working Together (AWT), an organization promoting manufacturing as a rewarding and challenging career option.
Antoinette "Toni" Noday-Krager, Executive Director, recently highlighted some of the work being done by AWT. "The AWT Foundation and its members have proactively invested in bridging the manufacturing skills gap working closely with educational institutions and government offices. AWT focuses on a grass roots approach through awareness such as ThinkMFG Career Expos, Ambassadors for real life STEM educational experiences, AWT RoboBot program for high school students, a State Funded AWT Junior Bot program for middle school students in Lake & Geauga Counties and most recently the Manufacturing Institute - a summer camp for 5th & 6th graders in Lake & Geauga Counties...to name a few. The AWT Foundation actively participates in job fairs for Veterans, displaced workers and individual seeking a career change. Career and educational support is available for those interested in a career in MFG."
For more information on AWT Foundation please visit their website: www.thinkMFG.com.