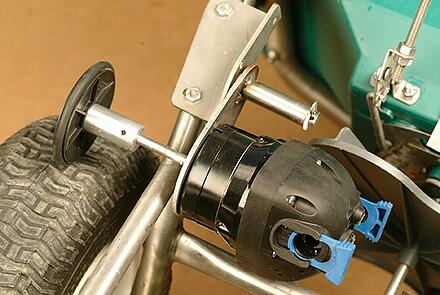 It was a 15-year-old dilemma that stared right back at Tom Jessen, daring him as if to say, "Go ahead, keep trying. You'll never win this one."
With the help of Torque Transmission and its Companion PO3 Pulley, Jessen, owner of Valparaiso, Ind.-based PermaGreen Supreme, a manufacturer of professional lawn and turf care equipment, eventually conquered his nemesis.
After years of searching for the right mechanism to drive a pump on a commercial fertilizer spreader, Jessen turned to Torque Transmission for the missing component that made his vision of a liquid sprayer on a granular fertilizer spreader a reality.
"I was designing a piece of equipment that needed to drive a pump shaft on a fertilizer spreader that has rubber tires," Jessen said. "What I needed was a little drive wheel that would be attached to pump shaft that comes in contact with the tire on the spreader so that the weed control pump sprays properly."
The problem Jessen faced was finding a tire small enough to resolve his predicament. "I needed someone to be able to accommodate my design," Jessen said.
That someone was Torque Transmission. Jessen took Torque Transmission's Companion Pulley and placed an O-ring on it. The O-ring became the tire that rode in the V typically accommodating a belt. "This set up gave me plenty of torque between the tire and the pump, providing me with the pumping action that I needed."
A SOLUTION FOR THE PROBLEM
Jessen's need for the pump on a fertilizer spreader was two-fold. He was searching for someone to construct a pump – the only ones he could find were electric. However, electricity and fertilizer don't get along very well, so he had them built without the electrical components, but he still needed a way to adequately rotate the pump to allow for the proper amount of weed killer to be.
Torque Transmission's Companion PO3 Pulley was custom designed with a pulley and a special hub, or collar, that made it possible for PermaGreen Supreme to make an adjustment in the positioning of the pulley, aligning it properly with the tire, to allow for sufficient distribution of the chemical spray, said Gary Rusnak of Torque Transmission's marketing department.
"PermaGreen Supreme needed adjustability in the design of the pulley for use in a non-conventional manner," Rusnak said. "Tom (Jessen) didn't want a long pump shaft, either. We custom designed a pulley with an O-ring fixed to the pulley, which is used in the driven part of the pump assembly. We produced the pulley specifically for Tom's design, enabling him to solve his problem once and for all. "
The combination of Torque Transmission's Companion PO3 Pulley and the O-ring as a tire gave Jessen the lightweight, compact and totally functional spray solution he was longing to find. "We did much better with this design than anything else I had tried before," he said. "We were looking for something lightweight that would not increase the fatigue of the person pushing the spreader sprayer."
THE VALUE TO THE CUSTOMER
Torque Transmission's Custom Companion Pulleys are specially designed for fractional horsepower drives requiring high strength to weight ratios. The pulleys feature a unique cost saving combination of glass-reinforced nylon with an aluminum hub. The pulley hub is drilled and tapped to include a No. 10-24 setscrew. A wide range of shaft bores and pulley diameters can be selected to meet almost any desired speed range.
Torque Transmission produced a custom-made pulley for PermaGreen Supreme. Jessen purchased about 1,500 of these pulleys at a cost of $5.74 each. This sizable order for Torque was also a great value to PermaGreen Supreme because Jessen did not have to have cast pulleys made. Cast pulleys would have produced expensive tooling charges and a lengthy delay in manufacturing and delivering the component, Jessen said.
"I told Torque Transmission what I needed and they delivered it for me quickly and at a reasonable cost," Jessen said.
Part of what Torque Transmission likes to provide to each customer is value by simplicity, Rusnak noted.
"We were able to produce the pulley in a cost-effective manner for PermaGreen Supreme, which is always what we try to accomplish with our customers," Rusnak said. "Once again we were able to use one of our components, and with a little modification, provide the customer with a product that they need at a price they can afford."
ABOUT TORQUE TRANSMISSION
For more than 50 years, Torque Transmission has designed and manufactured custom and standard power transmission components for low and fractional drive applications. Torque Transmission's wide product line includes worm gear speed reducers, right angle drives, thrust bearings, pulleys, roller chain sprockets, and flexible couplings. Our motion control components are used in industries such as food processing, medical, point of purchase, automotive, printing, semi-conductor manufacturing, sports and m any others.