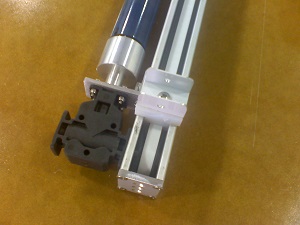 Steve Ostrowski was at his wit's end trying to find the exact component that would enable his ShadeFX canopy system to be easily installed and able to integrate with the system's motor with a drive beam. Ostrowski, a partner with ShadeFX Canopies in Toronto, manufactures retractable canopies for decks and patios utilizing a patent-pending monorail drive that does not jam or misalign.
Ostrowski and his partners considered a number of options, including a simple socket engagement mounted to the beam, which had a belt drive, and drove the wheels at one end of a caterpillar loop, but the mechanism was too cumbersome to operate. Ostrowski harkened back to his original goal: to make the system hassle-free and easy to install.
"A critical element in the design is that the canopy is driven by a monorail beam that supports the canopy in the middle," Ostrowski said. "This process eliminates the need for the tracks to be aligned, and allows it to be mounted to a wood frame that could shift and twist over time."
The solution also had to be compact, yet cost-effective. With little options to choose from, Ostrowski did what most astute businessmen do: he turned to the Internet in his quest for a solution. "I didn't really know what it was I was searching for," he said. "I searched dozens of terms. Somehow, after 10 hours of dutiful Internet sleuthing I got the 'compact right angle transmission' I was looking for."
The Toronto native knew what he was looking for and knew he found it the moment he clicked on the Torque Transmission website. "I felt like I had a lucky horseshoe around my neck," Ostrowski said. "I knew I had found the company that could help me, and credit has to go to my partners Herman Jans and Peter Westgarth. They were the ones that had to make it happen inside of three weeks for our product launch."
A SOLUTION TO THE PROBLEM: CUSTOM GEARBOX KIT AND PULLEY
Faced with the dilemma of finding a method to accurately move the canopy system's drive beam, Torque Transmission's engineers offered a Custom Right Angle Gear Box slightly modified to meet the customers exact requirements, two timing pulleys, one idlershaft, and two keys as the solution to Ostrowski's problem, thereby simplifying ordering and inventory. In addition and at the request of the Mr. Ostrowski all the components are shipped as a kit with a single part number in a sealed, compartmentalized container.
"Torque's Right Angle Gear Drive allowed us to mount our long slim tube-motor parallel to the drive beam," Ostrowski said. "That made the drive beam one integral unit with the motor and we knew we took the design to the next level of simplicity. Also, a simple extended shaft on one side of the gearbox significantly improved ease of manufacturability and allowed us to take another 1./4" out of the motor stand-off dimension."
John Rampe of Torque Transmission said Torque's standard array of drives in each right angle gearbox line satisfies a wide spectrum of application requirements.
"Torque Transmission has a gear drive and speed reducer to fit the needs of our customers," Mr. Rampe said. "If we don't, we will modify or custom design a speed reducer for their application."
THE VALUE TO THE CUSTOMER
An innovator with more than 50 years of designing and manufacturing custom and standard power transmission components for low and fractional drive applications, Torque Transmission was able to provide ShadeFX with an equitable and cost-effective right angle gearbox and pulleys to meet its needs. In this way, Torque Transmission delivered value and a viable solution to ShadeFX when it needed it the most.
"Our first order was for 10 Custom RAB-1 Right Angle Gear Drive and custom pulley kits at a cost of $123.00 each," Ostrowski said. "We plan to use at least 100 more kits this year.
"The bigger value to us is that we later found out that Torque Transmission also does a significant amount of business in making timing belt pulleys so we were able to reduce three suppliers down to just one – Torque Transmission," Ostrowski said. "We had a pulley supplier, a machine shop for the idler shaft, and Torque Transmission as the supplier. We are now able to eliminate the pulley supplier and the machine shop because we can get everything directly from Torque. They shipped every kit in a vacuum-sealed bag that was compartmentalized and well marked. Doing business with Torque Transmission is absolutely the cat's pajamas!"
About Torque Transmission
For more than 50 years, Torque Transmission has designed and manufactured custom and standard power transmission components for low and fractional drive applications. Torque Transmission's wide product line includes worm gear speed reducers, right angle drives, thrust bearings, pulleys, roller chain sprockets, and flexible couplings. Our motion control components are used in industries such as food processing, medical, point of purchase, automotive, printing, semi-conductor manufacturing, sports and many others.