You rely on suppliers to deliver materials for your production. The parts you rely on must be economical, consistent of quality and form, and above all else, they must arrive on time. When your suppliers don't deliver on time, your production takes a hit. And loss of production can cost a manufacturer thousands of dollars in labor and parts.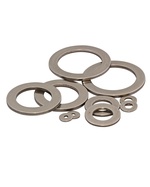 At Torque Transmission we're serious about delivering on time, every time.
We've made it a priority to deliver your orders on time as promised. Here are a few of the ways we ensure this.
Efficient Production Scheduling: Every order that comes to our production team is evaluated for customer specified delivery needs and product. Our lean manufacturing principles allow us to update our schedule daily or even hourly so that we may respond to your needs.
Materials Forecasting: Based on your usage or blanket orders, we keep the materials needed for the products you order regularly on our shelves at all times.
Thorough vendor review process: Our material vendors are reviewed and scored throughout the year to ensure we receive the items we need, when we need them which allows us to manufacture your power transmission components in a timely fashion.
Alternate vendors: Having a backup source or two for outside services is another way we ensure that we always have what we need to get the job done.
Updated Shipping Department: The Torque Transmission Shipping Department underwent a software and hardware upgrade in 2016. Utilizing the latest technology for seamless integration with UPS allows us and you to always know where your shipment is.
What are customers saying?
46.7% of customers in 2016 have rated our on-time delivery as the best of all their suppliers and 86.7% of customers have rated us in the top 3 of their suppliers. Because this performance promise is so important, we don't solely rely on customer feedback to measure it. Our internal review process examines and publishes this information every week. So far this year we have averaged 97.3% on time delivery for all orders, domestic and international.
Torque Transmission is dedicated to ensuring your orders are received when needed and we will never stop improving how we make this happen. You need your power transmission components when you need them and we completely understand. Torque Transmission will continue to deliver. Contact us to learn more!