Sometimes mistakes happen. A product may not have been ordered correctly or it may not have arrived as expected. If a Torque Transmission shipment doesn't meet your satisfaction we want to correct the situation immediately for you. It is of the highest importance to avoid downtime for your project or production. Our no-hassle RMA process will help you receive replacement or repaired parts right away.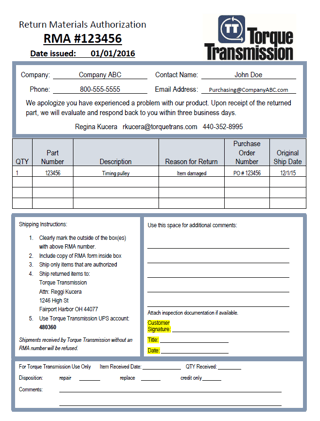 If you receive an order from Torque Transmission that is not correct for any reason, please contact our customer care department at 800-544-6642 or customerservice@torquetrans.com. One of our friendly customer care representatives will be happy to assist you with your problem. This contact information also appears on the reverse of all Torque packing slips.
If materials need to be returned for replacement, repair, or credit, an RMA form will need to be obtained. The form can either be emailed or faxed to you and will be already completed. You only need to sign and date and enclose with the materials being returned. Be sure to clearly mark the outside of the container with the RMA number. Torque Transmission will cover the shipping costs to return any damaged items and the instructions for shipping will appear on the RMA form.
Our customer care department will keep you updated on the status of your return. If replacement parts are needed, we will let you know when to expect them and any other details.
We never want an order go out from our sales and production teams being anything less than satisfactory. But the true measure of our dedication to your success is how quickly we can make it right for you. We know you have a choice in power transmission components and we will work to be that choice at every step.
Contact us at any time if we can help with your power transmission requirements.