Mexico Plastics, located in Mexico, Mo., relies on production/conveyor systems to produce from plastic sheet the bags used for individual newspaper delivery.
The rigors of the start-stop process of sealing and cutting each bag – more than 100 times a minute – were causing the electrical clutch brakes on the machinery to fail frequently. The clutches were expensive to rebuild or replace.
Plant engineer Jay Johansen considered replacing the clutch-reliant motors with digitally controlled servomotors that would withstand the constant start-stop production cycles and increase productivity, as well. Without changing the existing steel pulleys on the conveyors, however, the company was looking at purchasing large servomotors that cost nearly twice what Mexico Plastics felt it should invest.
Johansen concluded that if he could reduce inertia using lighter weight pulleys he could use smaller servomotors.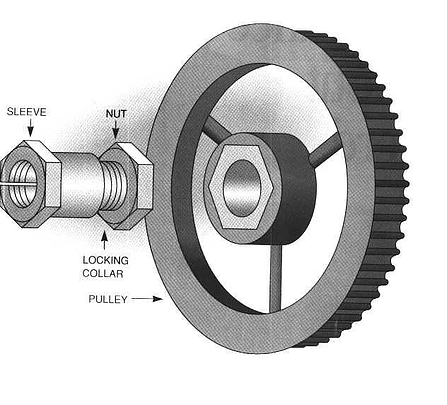 Finding Torque Transmission in the Thomas Register, Johansen contacted our company, which has built a reputation for producing cost-efficient, lighter weight power transmission components.
Torque Transmission quickly supplied Mexico Plastics with a test group of timing pulleys. The lightweight fiberglass reinforced nylon pulleys (6/6) were injection-molded and featured aluminum hubs.
In the course of the production tests run at Mexico Plastics, Torque Transmission's design engineers made several custom modifications to better meet the demands of the highly tensioned system. Two modifications were significant.
First, the high cycle rates of the machinery quickly wore away at the softer metal keyway of the aluminum hubs.
Working closely with Johansen, Torque Transmission's engineers substituted smaller, steel hubs for aluminum. This solution strengthened the pulleys against unending friction and wear, and reduced the frequency of replacement.
Because of the small diameter of the hub, the weight added by the heavier metal did not add enough inertia to impede the effectiveness of the servomotor.
A second problem experienced over time was that the high stress of continuous indexing was loosening the pulleys.
Torque Transmission recommended adding a "shaft locking collar." Increasing holding power by roughly 20 times, the collar locks the pulley 360 degrees on the shaft, sharing and equalizing the forces bearing upon the shaft.
The shaft locking collar both eliminated the keyway distortion and made pulley installation and replacement easier and quicker.
"The pulleys are an important component of the low inertia design of our entire system," Johansen said. "Overall, we have increased productivity on each machine by about 35 percent, effectively giving us the production yield of a fourth system for every three we upgraded.
"We also significantly reduced our down time and maintenance costs."
For more information on standard products or custom capabilities and engineering/design support, click here.