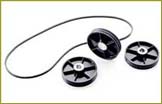 If you've ever been in a situation where your application demanded a pulley solution that off the shelf pulleys weren't able to handle, then you know how difficult finding a custom lightweight pulley solution can be. Fortunately, our engineers are experienced in listening to and working with clients to create custom solutions and custom pulleys for almost any application.
Our custom lightweight pulleys are designed for very low start/stop inertia and are created with molded high strength glass reinforced nylon for a durable, long lasting solution. Our custom lightweight pulleys also offer a number of advantages, including:
Cost-Effective: Approximately 50% less than aluminum pulleys.
All nylon or with aluminum hubs
Durable - The resiliency of nylon is easy on belts
Strong, accurate, and quiet
Standard and Metric Sizes
Single or double flange
Set screw(s) and key way(s)
Made in USA
We can also provide samples of our standard pulleys for testing or prototypes. So, if you are struggling to find a lightweight pulley that meets you needs, contact us today and request a quote!