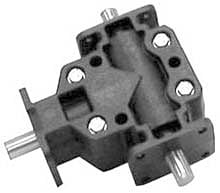 Torque Transmission is used to dealing with manufactures from all over the world, working with them to create custom solutions and providing cost-effective components. It's not often that we get to share a story from an individual customer using our components, and we've never had the opportunity to share a story quite like this before.
We recently ran across this article from Make Magazine about a Florida man who created his very own drill powered mini electric bike to help make ice and beer runs from his tugboat to the marina.
His search for a right-angle gearbox to allow the center-mounted drill to drive the rear wheel eventually led him to Torque Transmission. To read more about the drill-powered bike, and to get the instructions for building your own, click here.
The right- angle gearbox used in the project was the Torque Transmission RAB-1 right angle miter gearbox. The RAB-1 offer customers a couple of great benefits. First, the RAB-1 has a longer service life with less wear. Second, the RAB-1 has greater tooth-to-tooth contact and quieter operation. Best of all, it has the most efficient power transfer design under rated load conditions.
Custom features include:
Dimensions: right angle miter gear drive is 3-21/32" x 3-15/16" x 1-1/4" deep
40% glass filled polypropylene
Weight: 10 ounces
Shafts: Ground high-tensile steel. Any shaft may be used as a drive.
Gears: Hardened coniflex straight miter gears
Bearings: Hardened steel ball bearings, permanent lubrication
Mounting: Three shaft mounting positions provide versatility in application
Versaitle: Three shaft connections are provided for versatility in application
RAB-1 may be operated CW, CCW or BACK driven
RAB-1 is rated at 1/3 HP at 1800 RPM. Maximum speed is 3000 RPM
Learn more by clicking here.