Torque's HTD timing pulleys are precision, injection molded and glass reinforced to offer efficient power transmission without slip or backlash.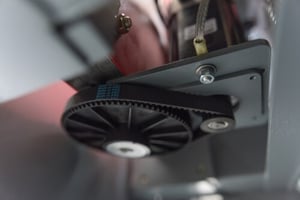 HTD Pulley Design
Our HTD timing pulleys are specifically designed with reinforcing metal inserts and a metal-to-metal connection at the hub to provide strength and longevity alongside of the lightweight advantages of the bodies nylon construction. Combining both metal and nylon in this way allows for a high strength-to-weight ratio and low inertia.
Nylon also helps us keep our HTD timing pulleys cost-effective and is naturally self-lubricating, chemical, and shock resistant.
Standard HTD Timing Pulley Options
We carry a number of standard pulleys to meet most applications needs. Our standard timing pulleys include: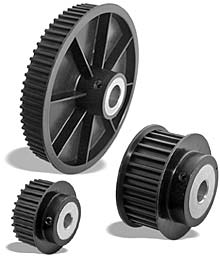 1/5" Pitch XL Series
L Series, 3/8 Pitch Timing Pulley
If one of our standard pulleys doesn't meet your project or applications specifications, we are able to modify one of our standard timing belt pulleys to meet your specifications. We are also able to walk you through the process of designing, sampling, and producing a fulling custom option.
Learn More About Our Full Line of Pulley Solutions
Contact us to learn more about the advantages and benefits of the Torque Transmission line of timing belt pulleys or to learn more about our pulley options.