Seeking a reliable thrust bearing for a signature rotating product, Rainbow Crossings needed a supplier who could provide a thrust bearing with smooth, continuous action without large volume ordering requirements.
The Search for Reliable Components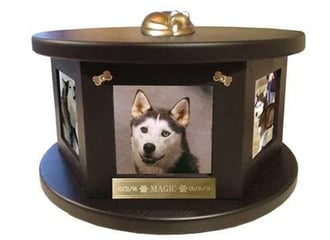 Rainbow Crossings specializes in personalized pet memorials. With options ranging from urns to memorial name plates, Rainbow Crossings offers a wide range of unique pet memorials. Rainbow Crossings signature memorial, however, is a rotating customized pet cremation urn.
These rotating urns need to have a long operational life with smooth rotation. After much trial and error, they determined that the key to both the longevity of the product and the rotating action was the quality of the mechanical components that made up the spinner mechanism.
"I did a lot of searching on the internet," said Sandee Johnston, Rainbow Crossings owner/operator. "I tried many other pieces from other companies, but they weren't a smooth role. I tried several, and they would stick. I needed something more reliable and durable with no catching in its operation."
The Missing Link: Quality Coupled with Service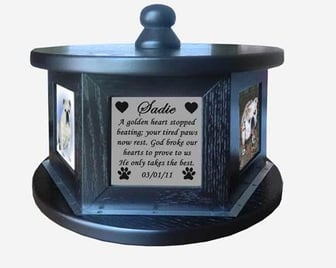 After an exhaustive internet search, Rainbow Crossings discovered Torque Transmission. "I tried a sample to see if they worked and have used them ever since."
In addition to meeting her exacting standards, Torque Transmission was able to work with Rainbow Crossings on the minimum order requirements. Where other manufacturers and suppliers required large quantities to be ordered in order to ship, Torque Transmission worked with Rainbow Crossings to ship smaller quantities. "I've also always had wonderful customer service work with me if I ran out unexpectedly."
Torque Transmission thrust bearings are, "a good product that is durable and sturdy 100% of the time. I've never had any scrap or unusable pieces in an order, and they are a good price. Very affordable."
Large Thrust Bearings
Our line of large thrust bearings utilizes a combination of molded nylon retainer with hardened steel balls. The injection molded, heat stabilized nylon retainers provide consistent quality, durability, and superior performance. A lightweight bearing, our large thrust bearings are corrosion resistant and offer users quiet operation.
Learn More About Our Full Line of Bearing Solutions
Contact us to learn more about all of our bearing options.