Found in diverse applications such as light industrial, medical equipment, and vending machines, right angle gear boxes need to be designed to provide dependable service with no maintenance.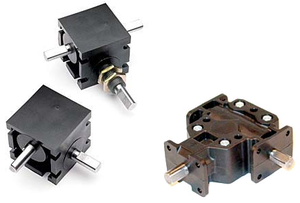 Lightweight and Strong Construction
Our right angle gearboxes utilize a strong, glass-reinforced, injection molded nylon housing and feature a carbon steel shaft for long-life and durability. By combining nylon and durable carbon steel shafts, our right angle gear boxes make use of the lightweight advantages of nylon construction and also the strength and durability of steel.
The shafts used in the right angle gearbox can be totally customized from the material and length to how it will connect to your drive. The best part is that these customizations are easy to get and can be applied to an order as small as a single gearbox.
Designed for a wide variety of power transmission and motion control applications where right angle motion is needed, these gear boxes hold up in even the most demanding industries and applications.
What Our Customers Are Saying
When Jace Systems, a recognized leader in the design and manufacture of CPM equipment for patients recovering from orthopedic surgery, needed a right angle gear drive for its line of lower extremity Continuous Passive Motion machines, they contacted Torque Transmission.
"Torque Transmission's right angle gear drive with the 2:1 gear ratio combined the light weight, small footprint and reliability we needed," stated Pat Cummings, lead engineer for Jace Systems. "These machines are subjected to daily, heavy, constant use and we needed a robust right angle drive that could take it," he added. "In fact, the drive is almost too robust – we don't get any repair work with these units," he concluded.
Learn More
Contact Torque Transmission today so that we can find a low cost gearbox solution that meets your needs and your budget.