Torque Transmission offers three types of metric timing pulleys: 3 mm pitch HTD, 5mm pitch HTD, and 8 mm pitch HTD. All three types of pulleys are precision, injection molded and glass reinforced. This design offers efficient power transmission without slip or backlash.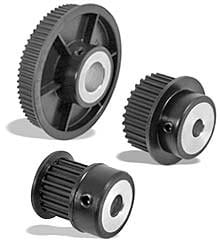 The Pulley Design
Our metric timing pulleys are fabricated from nylon with metal inserts for reinforcement, which takes advantage of the lightweight properties of nylon while gaining the advantages of a metal-to-metal connection at the hub and shaft. All three pulleys also offer a high strength-to-weight ration and low inertia because of their unique design.
Features of the Metric Timing Pulley
Torque Transmission's Metric Pitch HTD Timing Pulleys are injection molded to rigid standards for true design pitch, giving you the precision you need. They offer a number of valuable features, including:
Pulleys are available in Standard, Metric and D-bore sizes
Flanges: one, two, or no flanges
Plastic or metal hubs
Setscrews & Keyways
Wide selection of ratios to fit your requirements
Timing Pulleys also available in 3/8" L pitch, and 1/5" XL pitch
Made In USA
Contact us to learn more about the advantages and benefits of the Torque Transmission line of metric timing pulleys.