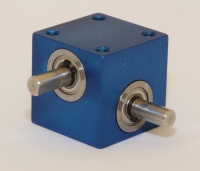 As part of our commitment to providing our customers with solutions to fit their needs, we are always on the lookout for a new addition to our extensive product line. Which is why we are pleased to announce an addition to our line of speed reducer cases and gearboxes, the RA-300 Series.
Manufactured with helical, hardened steel, gearing and a weight-aluminum housing, the RA-300 is the newest addition to our durable and rugged speed reducer cases and gearboxes. The RA-300 features a radial ball bearing shaft bearing and a 0.250 Dia solid single input and single/double output shaft.
Capable of handling a maximum input speed of 1800 rmp within its 1.25" high x 1.25" wide x 1.25" deep dimensions, the RA-300 is a valuable addition to our product line.
Visit the RA-300 Series webpage or contact us for more information.