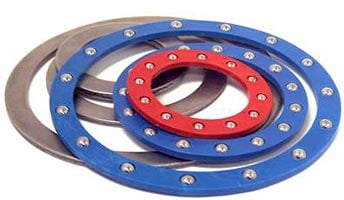 Since 1997 Kloehn Ltd has been a customer of Torque Transmission using our standard Thrust Bearings. Kloehn is a rapidly growth company on the outskirts of Las Vegas, Neveda in a scenic setting of the Nevada mountain ranges and the breath-taking light show from the distant site of the Las Vegas strip. Kloehn is an OEM manufacturer of products for the Analytical, Clinical, Diagnostic and Industrial OEM instrumentation market.
During a recent interview with Buck Kish, Product Engineer, we discussed our recent success in servicing Kloehn with a non-standard thrust bearing for their Syringe Pumps. Per Buck Kish, "Torque Transmission saved the company (Kloehn) money by supplying us with this Thrust Bearing" Mike Marshall, VP of Operations, who I met in person during my recent trip did not know the name Torque Transmission, but knew the thrust bearing we supplied them for their applications.
The whole story started with an offshore thrust bearing Kloehn was using in their valves. The company supplying the thrust bearing claimed to be stainless steel material, which is important in Medical applications. The cost of the thrust bearing was too high and was not performing in the field, due to the corrosive nature of the material being supplied to Kloehn. These problems prompted Buck to give us a call. Helen Stauffer, Sales Operations Manager, "During my conversation with Buck I listen to the immediate need of Kloehn and agree to take his request to Engineering and ask to manufacture the special OD/ID thrust bearing." Our response was to give it a try, TT Engineer; Doug Gryczan saw an opportunity to expand our capacity of thrust bearings while supplying a quality product at a reasonable cost savings to our customer.
Replacing an engineered part no matter how small is a process because we must prove ourselves in the repeatability and reliability of a component already in use. Engineers are methodical in there thinking and at times have no time frames to approve or disapprove a component. So our challenge is to prove them with:
Expeditious manner in turning concept, into prototypes, into pre-production 1st article, then production components in the customer's time frame of need.
Working with a company like Klein who also deals in the OEM markets understands the nature of Manufacturing to the customer specifications.
In October 2001 Torque Transmission was contacted by Buck Kish inquiring about a non-standard thrust bearing for a drive syringe needle used in clinical analytical application. The thrust bearing is used on the drive shaft which fluid is passed through. Our challenge was the size of the thrust bearing it was a small non-standard size. Our smallest standard is 5mm ID x 12mm OD x 1.27mm Thk. standard dimensions needed by Kloehn are 4mm ID x 9mmOD x 1.19mm Thk using 440 stainless steel balls and washers RC 58-65. We took there drawing bought it to the table and figure with small engineering fee we could provide a quality component to fit there existing suppliers product.
The Approach
An initial contact with the Customer Service representative at Torque Transmission who listened to Buck's immediate need and committed to taking the request to Engineering & Manufacturing to produce a prototype.
• Clarification of initial specifications produced an accurate quotation for Buck
• Samples were sent to Buck for review and testing in his application before mass production
• Adjustments to initial specification were made prior to production
• Production of final specifications
• Delivery within Buck's desired timeframe
From drawing to production it was a seven-month time frame due to methodical testing done on our thrust bearing. From our OEM supplier standpoint that is a fast turn around period for a replacement component.
According to Buck with the success of turning out the thrust bearing we are their exclusive supplier of thrust bearings. According to their MFG PN our part is a "Do Not Substitute" for purchasing. This is a supplier of and engineer part goal in obtaining status of exclusivity in a commodity market.
Contact Torque Transmission to learn more.