When deciding on the material for any given pulley, the end application will more often than not dictate which material to use. The vast majority of pulleys used in manufacturing are made from steel or aluminum, while a smaller percent use cast iron or Nylon. All of these materials have unique benefits.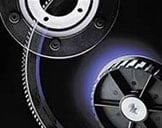 However, if the application is 2 Hp or less and you take into consideration the long list of advantages offered by Nylon, it is glaringly apparent that Nylon has a leg up over some of its material competition.
Looking for a cost effective material for a pulley? Download Nylon versus Metal Pulleys to get the run down on two of the most popular pulley materials!
Nylon
Yes, there are some limitations to Nylon, but for fractional horsepower, these limitations are not an issue. Our Nylon pulleys are rated for the belts they're designed to match.
Some benefits of Nylon pulleys include:
Molded Nylon Pulleys are more Cost-Effective
High-Quality Construction: Nylon 33% glass fill and metal hub combination
Noise Reduction: Smooth quiet operation
Lighter weight and therefore less inertia
Shock Resistance: Absorbs loads without breaking
Lubricity: Nylon provides a natural lubricated surface, nonabrasive to belts, and requires less maintenance
Chemical Resistant: Can be used in a variety of environmental conditions
Longer Life: life expectancy is equal to or greater than aluminum
Learn More
You can learn more about the advantages of nylon pulleys in the whitepaper Nylon versus Metal Pulleys: Application Requirements Drive the Proper Material Specification. This whitepaper explores each of these advantages in detail as well as:
Benefits, advantages and limitations of Nylon Pulley as compared to Metal Pulleys
Properties of and ATSM standards for our Nylon Pulleys
Design Considerations when using Nylon Pulleys
Click here to download your free copy of the Nylon vs. Metal Pulleys whitepaper!