The demands of the Motion Control market require light weight, durable components for greater accuracy and repetition. To meet the needs of this market, often the best solution is a nylon timing pulley.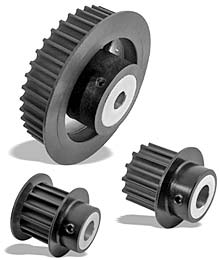 Take a look at the comparison below to see the differences between nylon, aluminum, and steel.
Light weight, low inertia:
Specific gravity
Nylon 1.32
Aluminum 2.7
Steel 7.84
High strength to weight:
Tensile strength
Nylon 22,000 psi
Aluminum 55,000 psi
Steel 78,000 psi
Nylon timing pulleys also offer a number of other advantages. One advantage of nylon is that they offer a smooth, quiet operation with no harmonic vibration. This means that nylon timing pulleys are significantly quieter than other similar pulleys manufactured from other materials.
Nylon timing pulleys are also chemical and corrosion resistant and can be used in virtually all environmental conditions. They also have a natural wear resistance because nylon acts as a natural lubricant that can out last aluminum pulleys.
Nylon timing belt pulleys are readily available from Torque Transmission in a wide variety of sizes and pitches. We can also economically custom mold timing belt pulleys to your individual specifications. For more information on standard products or custom capabilities and engineering/design support, contact Torque Transmission.