Does your design take advantage of Gates' PowerGrip belts? You may have considered switching from the PowerGrip GT2 belt to the PowerGrip GT3 belt because the GT3 belts are an improvement over their predecessor and more widely available. Here is the good news: if you do make the change in your belts, there is no need to worry about also changing the pulleys.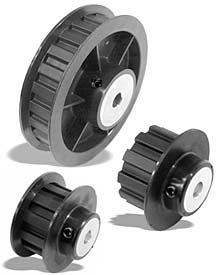 Why you can keep your pulley
The GT2 and GT3 timing belts have the same tooth profile and will both work with existing GT2 pulleys. If your current design includes this belt and you are considering making a switch, the impact should be relatively low. The GT3 belt has a virtually identical performance as the GT2. They're the same size, are available in the same widths, and have matching tooth profiles. Both belts match to the same pulleys which means there is no need to go back and redesign or rework any component. Changing from GT2 to GT3 is seamless.
Learn More
Torque Transmission's PowerGrip GT3 timing pulleys feature the same great benefits manufacturers have come to expect from us. Lightweight, long lasting, and consistently durable timing pulleys delivered in short lead times from a responsive and customer focused team. Request a quote for your project to learn more.