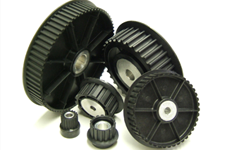 For over 60 years PowerGrip® timing belts have been leading the way in precision performance. PowerGrip® belts can be found in many common applications like computer printers and plotters, lab and office equipment, food processing, packaging, manufacturing and industrial , small machine tools, and home appliances.
PowerGrip® timing belts solve real-world application requirements, and Torque Transmissions offers a line of standard and custom pulleys designed to complement them. The XL, L, 3, 5, and 8 mm HTD and PowerGrip GT2® pulleys, are well-suited for applications that demand high load-carrying capacity, as well as precision indexing or registration.
PowerGrip GT2® belts offer a deep tooth profile, an advance in product design over the older HTD timing belts. The PowerGrip GT2® belts combine the best is technology and construction design to give improved performance and extended product life. The PowerGrip GT2® belt drive system delivers timing and synchronization accuracy that provides excellent registration with no loss of torque carrying capacity.
This means more power at a lower cost as well as greater precision and accurate registration. These timing pulleys offer high horsepower and torque carrying capacity, making them ideal for replacement of older belt technology.
Precision Nylon Timing Pulleys for Powergrip GT® Belts

Click here to learn more about PowerGrip GT2® custom pulleys and the tooth profiles available.