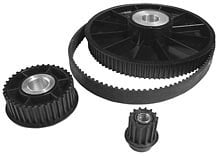 To understand what makes an ideal timing pulley it's often best to begin with understanding how the the product is manufactured.
What Makes a Good Pulley
In order to achieve long lasting, durable pulleys that are lightweight and reliable we use a combination of construction materials, design, and production methods to create our timing pulleys.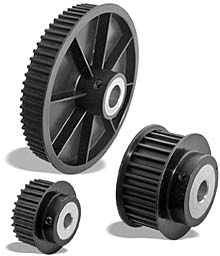 Our pulleys are produced using precision injection molding. This allows us to ensure the highest quality production. Further, our pulleys are designed from the ground up to take advantage of the natural properties of the construction materials to deliver efficient power transmission without slip or backlash.
The materials we use in the production of our pulleys are nylon and aluminum. Why use both construction materials? Both aluminum and nylon offer specific advantages, and by utilizing both materials, our timing pulleys get the best of both world.
Aluminum, for example, is a lightweight metal that contributes to the overall durability and strength of our timing pulleys. We use metal inserts to reinforce the pulley and a metal-to-metal connection of the pulley mounted on the shaft.
Nylon, on the other hand, is extremely durable and offers users other advantages. For example, nylon has a self-lubricating property. This particular property of nylon helps prevent belt wear of the pulley. Other advantages of nylon are that it is resistant to many shop chemicals and oils as well as shock-resistant. While not necessary in all applications, the chemical and shock-resistance of nylon helps contribute to the longevity of the pulley.
Nylon, like aluminum, is also lightweight and durable. When used in conjunction, a nylon and aluminum pulley is a cost-effect solution with a long, reliable service life.
We offer a wide range of standard timing pulleys. View our standard pulley sizes below:
All of our standard timing pulleys utilize the nylon and aluminum design discusses above, but if a standard size isn't the best fit for your application we also offer complete custom solutions as well.
Our experienced in-house engineers can help you through the process of design, testing, and tooling for a custom pulley solution. In fact, we can modify a standard timing belt pulley or create a custom design for your specific applications. Because of our specific type of production method we are able to make custom pulleys affordably and quickly. Click on our timing pulleys checklist below to begin the process of specifying a timing pulley for your specific application.