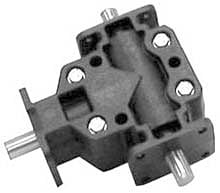 Designed for a wide variety of power transmission and motion control applications where right angle motion is needed, our right angle gearboxes are low cost and durable.
Utilizing a strong, glass-reinforced, injection molded nylon housing, our right angle gear box options also make use of a standard carbon steel shaft for long-life and durability.
Designed for use in a wide variety of applications, our right angle gearboxes are manufactured for a wide range of standard ratios and shaft options. However, our application support is always available to help size the correct gearbox for individual applications We also modify and custom design right angle gearboxes to suit individual requirements.
Currently you can find Torque Transmission right angle gear boxes in a wide range of applications, including:
Vending machines
Medical appliances and MRI machines
Overhead doors and window manufacturers
Conveyor manufacturers
Packaging and food handling machinery
Printing equipment
Semi-conductor assembly machinery
Office equipment
Automated welding equipment
Surgical beds and tables
Contact Torque Transmission today so that we can find a low cost gearbox solution that meets your needs and your budget.