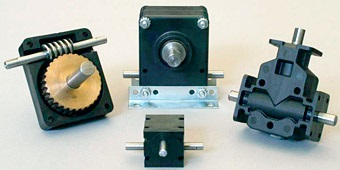 Sometimes you need a right angle gearbox set that are mirror images like one of our customers that needed one left hand and one right hand, on either side of a conveyor belt.
Torque Transmission's custom builds gear boxes so it is easy for us to build a match mirror image set without changing the gear box design or starting from scratch on a new one.
The other benefit for the customer was that it had a hollow shaft. Right angle gear boxes with hollow shafts aren't very common and they're perfect for when you need it to slide over an existing shaft.
Torque Transmission's right angle gearboxes offer a wide range of standard ratios and shaft options as well as customer driven custom designs.
The SW-1, SW-5 and RAB-1 right angle speed reducer cases are molded and glass-filled, making them extremely rugged and resistant to corrosive environments. Optional metal case is now offered for the Miniature Right Angle Helical Gear Drive.
Torque Transmission has a right angle gearbox and speed reducer to fit your needs. If we don't, we'll modify or custom design a speed reducer for your application.