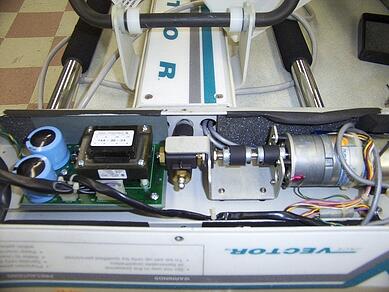 Continuous Passive Motion (CPM) is a postoperative treatment method that is designed to aid recovery after joint surgery. CPM is an important stimulus to joint regeneration processes and helps prevent scar tissue, and shortening healing time.
When Jace Systems, a recognized leader in the design and manufacture of CPM equipment for patients recovering from orthopedic surgery, needed a right angle gear drive for its line of lower extremity Continuous Passive Motion machines, they contacted Torque Transmission.
"Torque Transmission's right angle gear drive with the 2:1 gear ratio combined the light weight, small footprint and reliability we needed," stated Pat Cummings, lead engineer for Jace Systems. "These machines are subjected to daily, heavy, constant use and we needed a robust right angle drive that could take it," he added. "In fact, the drive is almost too robust – we don't get any repair work with these units," he concluded.
The Miniature Angle Drive (RA) Model measures only 1.25 " by 1.25" and weighs a mere 3 ounces, making it especially well-suited for applications where size and weight are a design issue. The Miniature RA gearbox uses permanently lubricated gear drives, hardened steel helical gears, and smooth operating non-metallic bearings and is rated at 1,800 maximum RPM and 1/8 horsepower continuous duty.
The Miniature RA features a choice of one or two input shafts and 1:1 or 2:1 gear ratios, right or left hand configuration, nylon or alum housing and may be operated in either direction.
Other Key features include:
Low cost. Prices start at only $80.00 – Half the cost of comparable metal case drives.
Off-the-shelf availability. Most configurations are in stock. Overnight delivery is available.
Choice of case and shaft materials: - RoHos Complaint.
Typical uses of Torque Transmission's right angle gear boxes include a wide variety of applications including medical and physical therapy equipment, packaging equipment, or any fractional horsepower application where high quality yet compact, lightweight and economical power transmission is required.
For more information, contact Torque Transmission.
About Jace Systems
JACE Systems is a global full service medical device manufacturer that complies with Food and Drug Administration (FDA) Good Manufacturing Practices (GMP) and ISO 9000 standards. Its products support the rehabilitation of patients recovering from orthopedic surgery throughout the world. More information may be found at www.jacesystems.com