From vending machines to manufacturing equipment, right angle gearboxes can be found in a wide variety of power transmission and motion control applications. Designed for economic power transmission, our right-angle gearboxes are durable, high quality components that offer a compact and lightweight gearbox solution.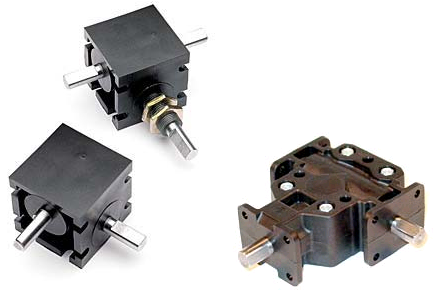 Right Angle Gearboxes
We offer a full line of right angle gearbox and speed reducer solutions, including:
RA-300 Miniature Right Angle Drives
If our off the shelf gearbox options aren't right for your application, don't worry! We excel at problem solving to design the perfect gearbox solution. Download our Speed Reducer Buying Checklist below to begin the collaborative process.
Learn More
Torque Transmission specializes in, but is not limited to, fractional horsepower drive systems and is able to work with all different motor speeds and ratios. At Torque Transmission, the design engineer is not locked into a specific design. You will find a collaborative team willing to offer solutions.
Contact Torque Transmission today so that we can find a low cost gearbox solution that meets your needs and your budget.