From lathes to power tools, round belt pulleys are often found in applications where high strength to weight ratios are needed.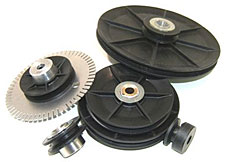 Designed for Excellence
Our round belt pulleys are designed for long life and dependable service. Combining the advantages of molded glass reinforced nylon construction with the strength and durability of machined aluminum hubs, these pulleys are ideal for low and fractional horsepower drives.
The nylon construction keeps the pulleys lightweight so they have lower inertia, and therefore lower energy requirements. This means that a smaller motor may be used, the time to accelerate and decelerate is decreased, and the machines overall process time is greatly increased.
Common Round Belt Pulley Applications
Some of the most common round belt pulley applications include:
Lathes
Light-duty milling machines
Drills
Power tools
Custom Options
Our standard round belt pulley options are designed to meet a wide range of application specific needs. However, sometimes an off the shelf option isn't the best solution. For applications where a custom, or tailored, solution is necessary we also offer custom designing services.
Our engineers can work with you to take a custom round belt pulley from conception through prototyping and production. Our custom round belt pulleys feature a unique combination of lightweight glass reinforced nylon with hub materials that include, aluminum, carbon steel, stainless steel and brass. Secondary operations include broaching keyways, 'D' bores, Double 'D' bores, set screws and bearings. Compound Round Belt Pulleys are available upon request
Learn More
We can help you find or design the perfect round belt pulley for your application. Contact us to learn about our V belt pulley and round belt pulley solutions or to inquire about non-standard sizes and designs.