There is a wide range of standard timing pulleys available, but efficient power transmission is key to making the right design choices.
When Should You Use a Nylon Timing Pulley?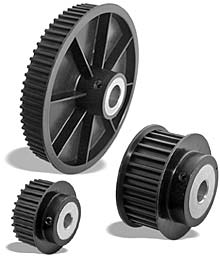 When does it make sense to use nylon timing pulleys? Whenever your design calls for 2 HP or smaller drive, Torque Transmission's nylon timing pulleys are the most logical choice. We know that your design dictates the size of the pulley, the requirements for torque, and environmental considerations. We have the solution.
Aluminum and Nylon Design
The aluminum hub insert of our timing pulley creates a metal to metal connection between the shaft and pulley which offers outstanding tensile strength. Coupling the aluminum with 6/12 nylon allows us to keep the weight of the timing pulleys down without sacrificing on the strength.
Using glass reinforced nylon also offers other advantages. Firstly, nylon is a lightweight, low inertia material that is chemical and shock resistant. These attributes make nylon ideal for many applications, especially those where weight and size constraints are key. Nylon also offers energy and cost savings.
Torque Transmission offers a number of timing pulleys in a range of sizes, including:
Learn More
Our in-house engineering, mold making, and tooling capabilities allow us to respond promptly to specific customer specifications for custom product needs. Contact us today so we can help you find the right small timing belt pulley for your application.