We have been helping our customers specify and design speed reducers for a long time now and we are sharing some of the tools we use to guide our customers through this process.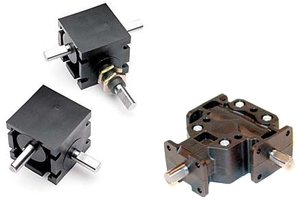 No matter what type of Speed Reducer you are looking for; it is always best to discuss your requirements with your supplier's sales engineer. A speed reducer accomplishes two purposes:
to reduce the input speed to a required level to do the work
to increase torque output by the inverse of the reduction ratio.
Making sure all design variables are taken into consideration will result in maximizing performance, efficiency, reliability and cost.
The new Speed Reducer Buying Checklist will guide you through the process of matching your application requirements with the information needed to allow your supplier to turn it into reality.
This guide will help you determine gear speed reducer:
Applications specific details
Speed and duty cycle
Shock and loading impact on service factor
I/O requirements
Housing details
Torque Transmission has a right angle gearbox and speed reducer to fit your needs. If we don't, we'll modify or custom design a speed reducer for your application.
Check it out here or click the image below.