Design teams working on new projects and prototypes have specific problems to solve and obstacles to overcome. Although there are many options for gearboxes that you can buy off the shelf, there are times where you need to meet certain specifications for the application.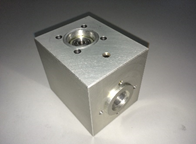 A high quality gearbox that is economical is the expectation of engineers and purchasing departments alike. Finding the gearbox, in the world of buy cheap and throw it away, seems to be harder and harder these days. Although there may be some advantages to this thought process. Most companies have started to realize that they are saving money only on the up-front cost, but spending more in long-term costs on production downtime and higher inventory required for replacements. This is where Torque Transmission excels in solving customer's problems.
We design our gearboxes to meet size and load requirements for the application and emphasize solving problems using the most economical design. We rate the gears, bearings, and components to keep long-term costs to a minimum without over-designing and adding cost. We can use almost any material and any configuration required to meet housing space restrictions or desired mounting. Torque Transmission will certainly fulfill your needs.
Getting a custom gearbox may not always require a full custom design. Torque Transmission has a standard line of worm reducers and right angle drives. There has been multiple occasions where modifications to a standard unit gives the customer the custom drive that was required. This could be as simple as different length / diameter shaft or a change in the material of the shaft to meet the application. Customers should not be forced into making a reducer that kind of works for their application. They should also not expect that a custom unit is going to cost an arm and a leg.
Torque Transmission specializes in right angle gearboxes, worm reducers, parallel shaft gear reducers, and in-line reducers. Download our Speed Reducer Buying Checklist below to begin the collaborative process.
Torque Transmission specializes in, but is not limited to, fractional horsepower drive systems and is able to work with all different motor speeds and ratios. At Torque Transmission, the design engineer is not locked into a specific design. You will find a collaborative team willing to offer solutions. Read about our work designing a custom gearbox for Midwest Motion Products here. There is no need to compromise your vision with components that are not exactly right.