For some applications, a mechanical speed drive is desirable. Variable speed pulleys provide users with efficient power transmission within a specific speed range. Some mechanical designs require simplicity and an electronic speed controlled drive may not be the best option.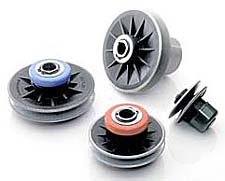 Economical Design
Our line of variable speed pulleys makes use of both nylon and steel. By using both glass reinforced nylon and steel for our pulley hubs and pulley face we are able to capitalize on the advantages of both materials.
Nylon offers cost savings; it also offers durability, quiet operation, and a light weight. The steel offers greater wear resistance and added strength. Together these materials create an incredibly durable product that is still economical.
Pulley Specifications
Our pulleys are designed for belt sizes ranging from 1/4" V to 5/8" V and horsepower ratings from 1/12 HP to 1.0 HP. The speed change range is up to 2.8:1. This makes them the ideal solution for designs without complicated or expensive electronic speed control.
There are two options of spring clamping pressure, medium and heavy. Unless requested, variable speed pulleys are shipped with the blue, heavy strength spring. We offer standard bore ranges from 1/4" to 3/4" (6mm to 20mm) in both hex and round shaft designs.
Contact us to learn more about our full range of variable speed pulleys, or to request a quote.