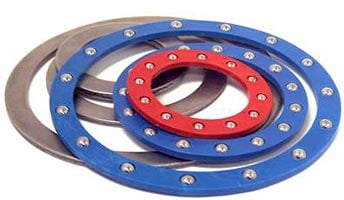 Nylon offers a number of advantages as a construction material. First, nylon is a fraction of the weight of aluminum or steel. This means that nylon is a lightweight construction material, and as a result products manufactured from nylon are low inertia components. Secondly, nylon is non-metallic which makes it ideal for situations where strong magnetic fields are present. Lastly, nylon offers significant cost benefits over traditional construction materials.
These properties and advantages of nylon are combined with the strength and durability of steel in our latest generation of thrust bearings. Steel bearings and nylon ball retainers work together to create an economical, long lasting thrust bearing.
At Torque Transmission we combine high-grade balls with the self-lubricating property of nylon to reduce friction, reduce noise and increase durability. Our molding process yields thrust bearings that are very resistant to wear. These are the most economical longest lasting thrust bearings on the market today! We offer both OEM and quantity discounts on all of our products.
Contact Torque Transmission to learn more about our thrust bearings, request a quote, or download our catalog.