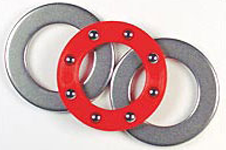 Designed to permit rotation between parts, thrust bearings must be able to handle friction while maintaining their integrity. Which is why we rely on the advantages of molded nylon for our thrust bearing retainers and the strength of hardened steel for our balls bearings and washers. The self-lubricating property of nylon reduces friction and noise and, when combined with hardened steel balls and washers, results in durable thrust bearings with exceptional service life.
Found in a wide range of applications including pressure gauges, surgical tools and equipment, and hydraulic valves we offer a number of thrust bearing types to suit any setting. Our thrust bearing types include:
Follow the links above to learn more about each bearing type including engineering specifications and load ratings. We have developed thrust bearings for dozens of markets and applications and samples of these standard bearings are available for test purposes and prototypes.
Download our online catalog to learn more, or contact us today.