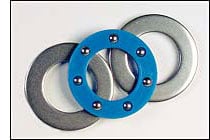 All of the Torque Transmission thrust bearing designs utilize hardened grade steel thrust bearing washers. Specifically, our thrust bearing washers are hardened finished to micro 10. So while the thrust bearings themselves are manufactured from injection molded, head stabilized 6/6 nylon, the washers and balls retain the long-lasting durability of hardened grade steel.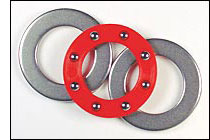 Thrust bearing completely manufactured from steel have a number of disadvantages when compared to a steel/nylon combination. All steel thrust bearings are heavier, noisier, and create more friction than our nylon/steel thrust bearings. Nylon, which is self-lubricating, reduces the friction of the thrust bearing, and reduces the noise, but most importantly it dramatically increases durability. This combination of steel and nylon results in the most economical, longest lasting thrust bearings on the market.
Torque Transmission has developed thrust bearings for dozens of different markets and applications. However, nylon allows for our thrust bearings to be molded to suit customer needs. This means that our thrust bearings can easily be molded to meet specific engineering requirements.
Contact us for samples of our standard bearings, which are available for test purposes and prototypes, or to learn more about our complete line of thrust bearings.