Ball thrust bearings are designed to permit motion between two parts while supporting an axial load and can be found in a wide variety of products, including bar stools and lazy Susan turntables. Torque Transmission's ball thrust bearings offer the perfect marriage between strength and wear resistance by coupling the nylon retainer with hardened carbon steel washers.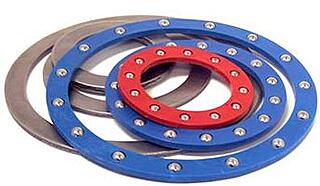 Using nylon retainers with hardened carbon steel washers allows us the best of both worlds:
soundless operation - nylon is quiet and will not squeak
lightweight - nylon weighs a fraction of aluminum or steel
nylon is self lubricating
hardened carbon steel is stronger and more wear resistant
hardened carbon steel is a more economical choice than stainless steel
Together, nylon and hardened carbon steel allow us to manufacture the most economical, long lasting thrust bearings on the market.
Torque Transmission's Large Ball Thrust Bearings are designed to replace large diameter roller thrust bearings because our nylon retainers are so much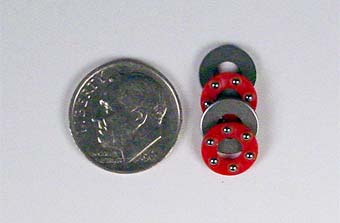 lighter than aluminum or steel and ideal for light duty and low RPM applications.
While our Miniature Ball Thrust Bearings are a small solution that can be hard to find in today's market. They're ideal for applications like surgical tools.
Contact Torque Transmission to learn more about our thrust bearings, request a quote, or download our catalog.