Thump Racing in Fairfield, NJ produces high performance auto racing components including belt tensioners, idler pulleys, grooved pulleys, blower pulleys, Kenne Bell pulleys, and other specially designed parts for Mustangs, GT500s, Challengers, Cameros and other high performance cars.

Torque Transmission supplies Thump Racing with thrust bearings used in belt tensioners for racing cars like Ford Shelbys super charged from 300 HP to 800 HP that race on 1/4 mile tracks.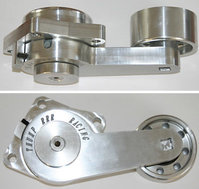 Peter Mitras, Owner and CEO or Thump Racing and High Precsion Machine says "the off the shelf Torque Transmission low profile thrust bearings are perfect for our application. The belt tensioners for race cars, typically1/4 mile dragsters, require a robust and tough thrust bearing."
The stock belt tensioners do not hold up to the pressure of the RPM and torque generated when these cars are super charged. Stock tensioners made from cast aluminum snap when raced.
We make our belt tensioners with billet aluminum so they never snap and the Torque Transmission thrust bearings match the quality of of our components and work so well we offer a lifetime guarantee for this product to our customers. Needless to say we are very happy working with the engineers and team at Torque Transmission".
At Torque Transmission we combine high-grade balls with the self-lubricating property of nylon to reduce friction, reduce noise and increase durability. Our molding process yields thrust bearings that are very resistant to wear and are able to withstand even the most harsh engine environment.
We manufacture high quality thrust bearings in a wide range of sizes - standard, metric and custom dimensions - to meet your specific application. Now available in 1/8" I.D. through 5" I.D.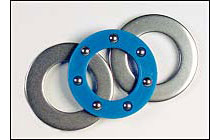 Cost Saving Features:
Lightweight nylon retainer
Natural lubricity
Corrosion resistant
Extremely quiet operation.
High Quality Construction:
Retainers are injection molded, heat stabilized 6/6 nylon held to a rigid design criteria assuring consistent quality
Hardened steel balls are grade 100 tolerance (±.0001", ±.0025mm)
The thrust washers are hardened finished to micro 10
Torque Transmission has developed thrust bearings for dozens of different markets and applications. Samples of our standard bearings are available for test purposes and prototypes.
Please visit our other product categories for the complete range of power transmission components including Speed Reducers, Timing Belt Pulleys, Poly v, and V-belt pulleys. Torque Transmission can serve as your single source for most of your power transmission requirements. Made in the U.S.A. Torque Transmission is ISO Certified .
Download our online catalog to learn more, or contact us today.