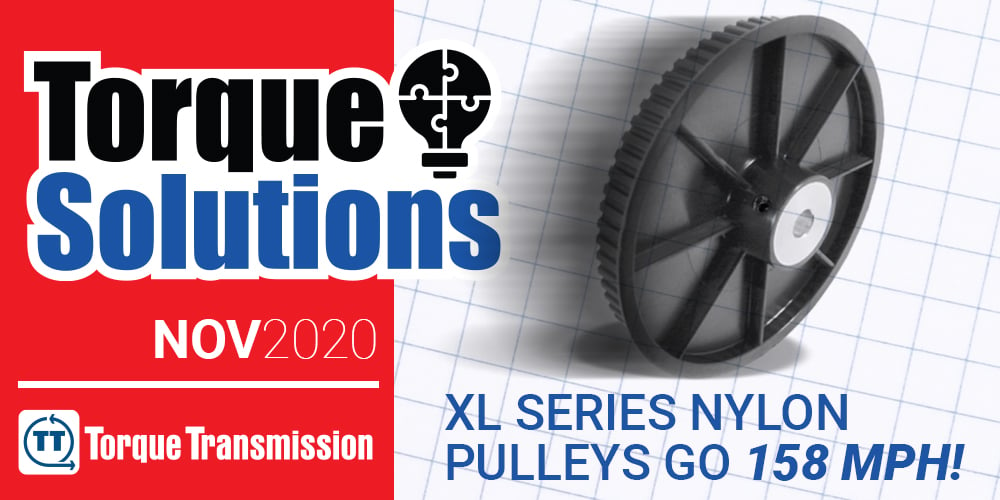 Editor's note: This article was originally posted in November of 2014 and has recently been revamped with up-to-date information in October 2020.
Bill Woods and his Sodium Distortion motorcycle building buddies are not the run of the mill hobbyists. They want to go as fast or faster than anyone ever has on a 500cc motorcycle and when they and about 175 others gather at the Bonneville Speed Flats, they get to find out who really is the fastest. When you want a bike to go fast and an engine to turn at very high RPMs, then you need the very best parts available, so Bill turned to Torque Transmission for XL Series timing pulleys.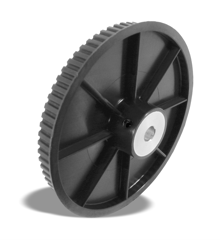 "We use pulleys to drive a supercharger on the motorcycle. The first nylon pulleys we got from Torque Transmission were used as a speed increaser to jump the RPMs from 7,0000 to about 42,000 RPM, and the pulleys worked very well. We have used the nylon XL Series pulleys to go to 63,000 RPM but had a catastrophic failure due to timing belt disintegration.
We have used aluminum pulleys but found that they would fail above 40,000 rpm whereas the nylon pulley showed no ill effects. The aluminum pulley teeth would begin to "melt" or wear off at those speeds. We found that the nylon pulleys would dissipate the heat very well. The nylon pulleys outlast the belts" said Bill Woods.
These guys have a great story, so great in fact that there is a movie called 'Out of Nothing' about their exploits. Check out the trailer out below.
Download this article in printable pdf format by clicking on the button below...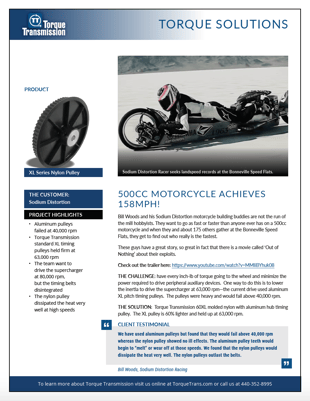 ---
Learn more about Torque Transmission's full line of
Pulleys on any of the following product pages:
Precision Variable Speed Pulleys
---
If you are interested in learning more about the benefits of using molded nylon pulleys download our white paper on the subject by clicking on the image below.