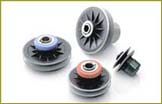 A Torque Transmission variable pitch pulley is an economical and lightweight pulley solution. Suited for a wide range of industries and applications, our variable speed pulleys speed range is infinitely variable within standard ratio limits.
Torque Transmission variable speed pulleys offer multiple pressure clamping force on the belt and are color-coded to indicate spring pressure for easy identification and use.
Available in both hex and round shaft designs, standard bores range from 1/4" to 3/4" and metric bores, 6 mm to 20 mm, with horsepower ratings from 1/12 HP to 1.0 HP.
These pulleys take advantage of a nylon and metal design to gain the benefits of both materials. Nylon construction allows these pulleys to maintain their lightweight composition, while metal shaft and pulley face does not sacrifice on strength.
Torque Transmission also offers Precision Variable Speed Pulleys featuring close tolerances on round shaft, molded keyway, and precisely ground and polished shafting and a variety of spring pressures ranging from 6 pounds to 82 pounds, depending upon the model.
Contact us today so that we can help you find the right variable speed pulley for your application.