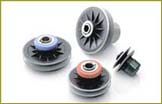 Torque Transmission variable pulleys are designed to be an economical pulley solution, combing the savings and strength of glass reinforced nylon and steel hubs with the wear resistance of steel-clad flanges. Both lightweight and quiet, these pulleys are also remarkably strong and, within the pulley's ration limits, they have an infinite speed range. All of our pulleys are also spring-loaded and color coded to indicate spring pressure, making them easy to identify and use.
There are two major types of the Torque Transmission variable pulley; standard variable speed pulleys and precision variable speed pulleys. The standard variable speed pulleys have a bore range from 1/4" to 3/4" in both the hex and the round shaft designs.

The precision line of our variable spring pulleys feature close tolerances on round shaft, molded keyway, and precisely ground and polished shafts along with a variety of spring pressures, ranging from 6 pounds to 82.

Contact us to learn about our variable pulley solutions or to inquire about non-standard sizes and designs.