One question we hear frequently is "What is the torque rating of your pulleys?" We understand when creating a design and configuring the drive system, customers need to know all the facts. Understanding the speed, loading, and torque are each important parts of the planning process. The simple answer to this common question: Check your belt's torque and RPM rating.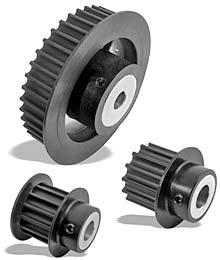 Our nylon timing pulleys are only one component of a drive system. They are each designed to match a specific timing belt. Each timing belt is rated for a range of speed (RPM) and horsepower. Once you have selected the timing belt which best meets your requirements, you can be assured our timing pulleys match the rating of the belt they are designed to fit.
What timing pulleys are available?
We offer a wide range of available timing pulleys to meet most application needs. Our standard timing pulleys include:
XL 1/5" pitch timing belt pulleys
L 3/8" pitch timing belt pulleys
3mm HTD Timing Pulley
5mm HTD Timing Pulley
8mm HTD Timing Pulley
Are custom timing pulleys an option?
Following the correct belt selection process is essential, but we do understand that sometimes a standard pulley just isn't the right fit. That is why we offer custom timing belt pulleys. We can help you design, prototype, and manufacturing a custom timing pulley to meet your applications specific needs.
Our custom pulleys, like our standard timing pulleys, are manufactured with the highest quality molded, high strength, glass reinforced nylon. Nylon pulleys are lightweight, cost effective, and strong with long service life and quiet operation.
When in doubt, please contact us via email or phone. Our customer care and engineering departments are here to assist you. We welcome the opportunity to help turn your idea into reality.