Torque Transmission is so easy to do business with; what is ordered will ship right the first time, on time, every time. Should it not be right, we will make it so. This is our promise to you.
We know engineers have choices when selecting the right components for their design. Purchasing managers and buyers have choices too when looking for on time delivery and specific price points. At Torque Transmission we offer the whole package.Our knowledgeable and courteous staff: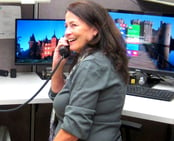 From engineering and customer care to production and shipping, you can be assured an entire team is dedicated to meeting your needs. We take the time to listen and ask the right questions. Finding the right solution and learning all your design requirements is paramount to our success as well as yours. We have recommendations and the ability to customize solutions that fit your needs. Torque Transmission knows how to get you to market faster.
Ease of ordering:
Like volume discounts? We do too. Want to manage your materials without any hassles? We get it. That's why we offer our OEM customers the option to use blanket orders to manage their inventory. With guaranteed delivery of your needed materials at anticipated intervals, you'll never miss production time due to missing items and you won't have to stock a 6 month supply in your warehouse either. Torque is flexible and agile in responding to your demands, even when the demand for your production fluctuates.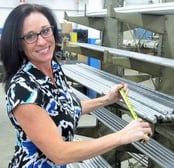 Cost controls:
While price isn't everything, we absolutely understand your need to keep costs down. Our priority is to reduce the cost of doing business, continuously implement efficiencies, and invest in production improvements so that we can offer you power transmission components at an economical advantage. Our LEAN manufacturing principles allow us to set advantageous prices with minimal increases.
Trustworthy quality:
The components you order need to work. Period. When you receive a shipment of materials, you need to know they are made with consistency, free of defects, and able to perform as promised. Torque's strict quality standards allow us the confidence we place in every item shipped, in every carton, to every customer, to be exactly as promised.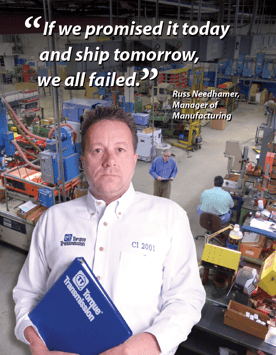 When something isn't right:
Sometimes mistakes happen. Maybe your order wasn't as expected or maybe your items were damaged in shipment. Whatever the case may be, our first priority is to make you whole. Obtaining an RMA is easy and our customer care department will solve any issue you may have with Torque Transmission. Our corrective actions are thoroughly investigated and our dedication to continuous improvement provides a business culture seeking solutions that prevent the same mistake from happening twice.
Thinking about trying Torque's line of power transmission components? Request a sample or assistance with prototyping and experience the difference yourself. We look forward to hearing from you.