At Torque Transmission, we have been manufacturing components using nylon for decades. It may be the best option, depending on application, for light-weight and affordable power transmission components.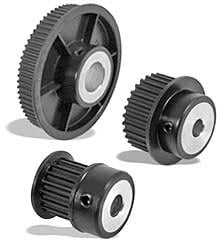 Sometimes pitching nylon parts over their traditional all metal counterparts can be a tough sell, however, as plastics gain momentum in the marketplace, it's getting easier. It is plain to understand why. Plastics offer a host of advantages including a high strength to weight ratio.
Still the Future
And we're not the only ones that think plastics have a strong future. Check out this recent article in Machine Design, Replacing Metal with Plastic.
Here is an excerpt:
"In a famous scene from the movie The Graduate, the young hero is advised that "there's a great future in plastics," a prediction that echoed reality. Now, plastic is aiding the driving force to make products lighter, stronger, easier to process, and available in more complex shapes—specifically in the form of composite and high-end polymers. In other words, plastics are still the future."
Click here to read the full article.
See the Advantages in Nylon Pulleys
Nylon pulleys are a great way to see the advantages of plastics in actions. Some of the benefits of a nylon pulley, rather than an all metal pulley, include:
Cost-Effective
High-Quality Construction: Nylon 33% glass fill and metal hub combination
Noise Reduction: Smooth quiet operation
Lighter weight and therefore less inertia
Shock Resistance: Absorbs loads without breaking
Lubricity: Nylon provides a natural lubricated surface, nonabrasive to belts, and requires no maintenance
Chemical Resistant: Can be used in a variety of environmental conditions
Longer Life: life expectancy is equal to or greater than aluminum
One of the biggest advantages of nylon, however, is that nearly any design requirement can be met. When the basic design requirements are understood, a pulley can be manufactured that meets the end-user's needs.
For instance, ratio, speed and torque define the pulley tooth profile and pitch diameter. Other requirements can affect how the pulley fits into the drive. Nylon is ideal for custom orders because, once the mold tool has been modified, the pulley can be reproduced economically with exacting tolerances. In fact, specific design requirements can be manufactured as easily as standard pulley designs.
Learn More!
Are you curious as to how injection-molded thermoplastic components might benefit your design and keep your project under budget? Contact Torque Transmission today to start the collaboration process. Our engineering staff is here to assist you.