A critical component of power transmission systems is a right-angle worm gear speed reducer, also referred to as a right-angle gear box or a worm gear reducer.
What is a Worm Gear Reducer?
A worm gear reducer is a type of reduction gear box. It consists of a worm pinion input, an output worm gear, and features a right-angle output orientation.
Why Use a Worm Gear Reducer?
This type of reduction gear box is generally used to take a rated motor speed and produce a low-speed output with higher torque value based on the reduction ratio. They often can solve space-saving problems because the worm gear reducer is one of the sleekest reduction gearboxes available due to the small diameter of its output gear.
Advantages of a Worm Gear Reducer
The advantages of a worm gear reducer include a high ratio of speed reduction, high torque output multiplier, and they are able to withstand shock loading better than other designs. Worm gear reducers are also low cost and compact.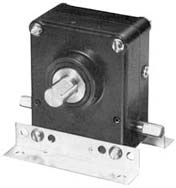 Torque Transmission offers two sizes of worm gear reducer, the SW-1 and the SW-5. Both models include a rugged compression-molded glass-fill polyester housing that is lightweight, noncorrosive, and nonmetallic. They can be feature either hollow or solid output shafts and offer easily adjustable mounting positions. Both models are also compact and offer users a range of ratios, including:
SW-1, 3.5:1 to 60:1
SW-5, 5:1 to 100:1
Learn More
The type or model of speed reducer which is right for your application will be determined by the application and project specification.
Contact us for information about any of our speed reducers or to request a quote for a custom speed reducer.