As manufacturers, we want to build quality tools and parts that fit our customers' needs. But we are also business people and we understand that customers' needs have to be balanced against what is best for their business. Which is why, for many manufacturers, non-standard parts are challenging.
The Challenge of Non-Standard
In the world of manufacturing non-standard parts often equate to "custom" parts. Custom parts mean a whole host of things that a lot of manufacturers can't afford; things like special tooling, manufacturing, and processes. These special "extras" needed to create custom parts mean an extended lead time and, ultimately, increased prices.
PULL Production Process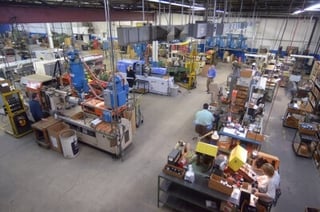 For a lot of companies, creating custom parts is handled in exactly this way. At Torque Transmission, however, we have a different way of handling custom parts that makes better sense for our business and for our customer's businesses.
At Torque Transmission, we utilize a PULL production process. Pull-through production is characterized by smaller batches, quick responses to customer demands, and smooth product flow. This type of production is an example of lean manufacturing and is the reason why we are able to make orders to customer specifications.
What Characterizes the Type of Lean Manufacturing Torque Transmission Utilizes?
Pull-through production of this kind facilitates product customization because the products are made when they are ordered. This allows us to offer products that will meet a customer's needs, rather than offering standard products that may not meet the needs of a customer or do the job 100%.
How do we do this? A cornerstone of PULL production is no inventory. Instead of stocking large quantities of stock parts that won't meet customer's specifications 100%, we make what is ordered when it is ordered.
For this to be as cost effective as possible we use standardized tooling, a standard mold base system, to make unique mold tooling. The manufacturing process is the same as in a standard set up, but the tooling is unique to the customer. And, because we use standard mold bases and the standard manufacturing process, the set up and turn around are very quick.
To make sure that we move orders through this process efficiently, the customers due date determines the orders place in the production schedule. Once the order has been started it moves through the manufacturing process with no delays or queues.
A Unique Part Number
The other piece of our lean manufacturing strategy that helps us make custom parts cost-effective is our part number system. We have streamlined our ordering process so that only three things are not automatic: the part number, desired quantity, and the due date. Every part that is ordered is assigned a unique number and linked to that number is:
A complete sales history
Engineering change history
Engineering drawings of complete part assembly and all components

Engineering Master: specifies all steps in the manufacturing process, complete bill of material, mold tooling, assembly tools, inspection parameters and inspection tools.
Custom is Cost Effective
Our lean manufacturing strategy helps use make non-standard or custom parts in such a way that they are actually cost-effective. Where other companies are capable of creating custom parts, but at increased cost, our manufacturing process actually makes custom parts standard.
Check out these related posts: