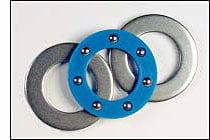 Torque Transmission micro ball thrust bearings are a reliable and cost-effective ball thrust bearing ideal for medical, industrial, and electrical applications. The new line of micro thrust bearings are available in carbon and stainless steel in Metric sizes 4mm ID to 12mm ID. Custom sizes upon request.
All Torque Transmission Thrust Bearings designs incorporate the optimum combination of molded nylon retainer, with hardened grade steel balls and washers. Self-lubricating property of nylon, combined with the hardened steel, high-grade balls reduces friction and the micro finish thrust washers reduce noise and increase durability. The unique design of the molded nylon retainer captures the balls in precision molded pockets assuring smooth, free-turning, quiet operation. Retainers are injection molded 6/6 nylon held to a rigid design criteria assuring consistent quality. Hardened steel balls are grade 100 tolerance (±.0025mm) and a 10 micro finish.
For more information, contact Torque Transmission or click here for samples of standard bearings are available for test purposes and prototypes.
You may be interested in these other posts: